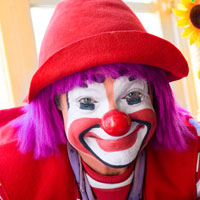 Rick Chaney (aka Jots the clown)
Kernersville, NC
Cervical and lumbar degenerative disc disease, with spinal stenosis, pinched nerves, radiculopathy and cervicogenic headaches
"If Dr. Cohen hadn't done my surgery, I'd probably be lying in bed on disability."
When Rick Chaney was 12, he lived a boy's dream life – traveling with the circus alongside his father, Earl Chaney, a clown in the Ringling Bros. and Barnum & Bailey's Greatest Show on Earth. The grease paint left a permanent mark. By age 15, Rick was performing as his own clown persona, Jots.
Over the years since then, from his days in Las Vegas to his current life in Kernersville, NC, Rick has always been a part-time or a full-time clown. Early on, he was Ronald McDonald for a year, following in his father's footsteps. Later, he clowned part-time while working as a construction manager after moving to North Carolina to raise his children.
Today, he's back clowning full-time through his company, Circus Daze – but only after enduring two car accidents, months of pain and two major spine surgeries. He credits Max W. Cohen, MD, FAAOS, founding physician of Spine & Scoliosis Specialists, with putting a big clown smile back on his face.
Diagnosis
Rick's spine problems began in 2003, when his car was rear-ended by a truck, which then pushed his vehicle into a second truck. Rick began having severe back pain and sciatica. He sought help from Dr. Cohen, a fellowship-trained spine specialist in Greensboro. Not only was the doctor knowledgeable, but he also has an upbeat attitude that was inspiring, Rick says.
"He always has a smile on his face," says Rick. "When I met him, he just seemed positive about everything that was going to happen, so it made me have a positive outlook on everything."
Dr. Cohen diagnosed Rick with spondylotic myeloradiculopathy. In layman's terms, he had degeneration of the disc in the L4-L5 area, with bone spurs and pinched nerves, aggravated by injury. His symptoms included back pain and sciatica (radiculopathy), or pain down the leg.
Dr. Cohen notes that it's not uncommon for a patient in his 30s or 40s to have degeneration of the discs without realizing it. Then, when the patient is in an accident, as Rick was, the problem manifests itself in pain.
"If he was younger, he may have just been sore for a week or two, but being that the disc had already had some deterioration, it became painful and it wouldn't get better," Dr. Cohen says.
Rick underwent a variety of treatments before opting for surgery more than a year after his injury.
"We exhausted every other method of trying to take away the pain: shots, massage therapy, all the works," Rick says. "And finally it was just, we gotta do this (surgery).
Rick recovered and felt stronger than before. Then, in 2007, Rick was in the wrong place at the wrong time again.
"I was in my friend's car, and a lady fell asleep at the wheel of a car," he says. "She hit us head-on and totaled both cars. I was lucky to be alive."
He suffered a broken ankle, torn knee ligaments and a neck injury. Because he and his friend were on a work assignment at the time, the injury was handled as a Workers Compensation claim and Rick was not able to select his own doctor. His ankle and knee healed, but his neck pain grew worse and he had incapacitating migraines.
"The migraine would start at the left side of my head and go right up the top, right up to the front," he says. "It was like it was crushing right down on a nerve, and it wouldn't stop. It was horrible. I would have to go to bed and turn out the lights."
In addition, he had excruciating neck pain that traveled down his left shoulder, radiating from the C-5-6-7 area of his upper spine. That meant he had almost no range of motion in his neck. He tried virtually every treatment, from physical therapy to injections. None helped.
His diagnosis was the same as with his neck years earlier– spondylotic myeloradiculopathy – but this time the degenerating discs were in his neck area at C4-C5-C6. He grew despondent as his doctors told him there was little more to be done and that the chance of success with an operation was minimal.
"All along, I had been asking to see Dr. Cohen," Rick says. "I finally just insisted, 'Send me to Dr. Cohen.' The doctor I was seeing said 'OK, I'll send you to Dr. Cohen. He's young and he's got new, innovative ideas.'"
Rick got an appointment with Dr. Cohen, "and he just brightened my whole life up, instantly," Rick says. "That doom and gloom was gone. We went from 'there's about an 80% chance surgery won't work' to 'there's an 80% chance this is gonna work.'"
Surgery
Rick's back surgery in 2005 was among the first minimally invasive posterior lumbar fusions performed in the U.S. At the time, Dr. Cohen
traveled around the U.S. training other surgeons to perform what was then a new procedure. In Rick's case, Dr. Cohen removed the disc and bone spurs to relieve pressure on the nerves and then fused the spine from L4 to L5. Instead of the long incision made in a traditional fusion, Dr. Cohen made a number of small incisions. "It allows for a quicker recovery and less damage to the muscles than the traditional technique," Dr. Cohen says.
(See "Surgeon's Perspective" here for more details.)
In Rick's second surgery in 2008, Dr. Cohen performed an anterior cervical discectomy fusion, again removing bone spurs and ruptured discs, then fusing the spine from C4 to C6 using bone grafts held in place by a cervical plate attached with titanium screws.
The advantage of that technique over older surgical procedures is that the patient does not have to wear a neck brace and avoid moving his neck for many months. With the plate and screws holding the fusion in place, the patient can begin moving his neck almost immediately.
Recovery
After his first spine surgery a few days before Christmas in 2005, Rick says it was hard to get out of bed at first, but hospital staff helped him begin moving.
"I got home Christmas Eve to be home with my children," he says. "They did therapy at the house for several weeks. I started off on a walker, and progressed pretty quickly to walking down the stairs, to walking around the block, to walking a mile, and so forth, until I was much better. It was a very successful surgery. As a matter of fact, I thought I was stronger after the surgery. I felt great."
Recovery from his neck surgery in October 2008 was even easier than from his back surgery, Rick says.
"I was in the hospital probably less than 24 hours this time and then I went home and started the healing process," he says.
He says the most amazing part of his recovery was the immediate disappearance of his headaches. Though they had felt like migraines, they were what are called cervicogenic headaches, caused by pressure in his neck.
"When I saw Dr. Cohen a week or 10 days after the surgery, I said, 'I'm in a lot of pain still, but you know what? I haven't had a headache yet.'"
Key to his recovery, he says, was following post-operative instructions, which included wearing an external bone stimulator around his neck that provided electromagnetic stimulation to promote bone growth in the area of the fusion.
"I did all the things that the doctor told me," Rick says. "That's the most important part: He told me what to do, and I did it."
Today, Rick rarely has a headache and his neck pain is gone.
"It's been a couple years of healing, but my neck is strong as ever," he says.
He and his wife Monica opened their own clowning company, Circus Daze (www.circusdaze.com), in 2010. They have performed at corporate events for American Express and other companies, as well as at retirement homes and children's birthday parties.
For a man who had terrible neck pain only a few years ago, it's an amazing recovery.
"I feel like I'm in pretty darn good shape for a 49- year-old – bouncing around like a youngster right now," Rick says. "I walk on stilts, I juggle, and I balance an eight-foot cane on my chin."
Monica, who performs with him as Sonshyne the clown, watches in awe. "Every time I see him do that," she says, "I remember when he couldn't even move his neck at all."