Ben Moore
Martinsville, VA
Isthmic spondylolisthesis
"Now I don't have any pain. I can just play baseball."
As a child, Ben Moore was a natural athlete who loved sports. In elementary school and middle school, he played baseball, football and basketball.
But even as he excelled in athletics, a problem was plaguing him. It began at age 11, when he developed back pain after a car he was riding in was rear-ended. After the accident, Ben's mother, Michelle Moore, took him to a pediatrician, who diagnosed muscle spasms. Over the next four years, Ben developed increasing back pain in everyday life as well as during and after playing the many sports he loved.
"On plays, I'd be diving or sliding, and as I'd get up I would feel this really sharp pain," he says. "Even when I wasn't playing, sometimes I would wake up in the morning and get out of bed and there would be a sharp pain in my lower back."
When his pain continued, Ben's mother took him to an orthopaedist, who recommended physical therapy and ibuprofen after finding a fracture of a vertebra in his spine.
Ben continued excelling in sports, winning Most Valuable Player and racking up the highest on-base percentage on his 8th grade baseball team.
But the pain persisted. And Ben's mother continued trying to find help for him, taking him next to a pediatric neurosurgeon who made the same diagnosis and recommendations as the orthopaedist. As Ben's pain grew worse, he gave up football, then basketball. In 2008, he gave up cross-country after he collapsed at the end of a 5K race.
"I just fell on the ground, I was in so much pain," he recalls. He worried about whether he would be able to continue the baseball that he loved.
Read The Surgeon's Perspective
Diagnosis
Ben's world finally turned around when his mother sought help for her own back problem from Max Cohen, MD, FAAOS, the founding physician of Spine & Scoliosis Specialists in Greensboro. While in the office for an appointment, Michelle saw an article about Dr. Cohen helping another teenager through surgery – and realized he also treated kids. She asked him if he would see Ben.
"I feel like God sent me to Dr. Cohen so Ben could get help," she says now.
When Ben came for his appointment, Dr. Cohen diagnosed a common adolescent problem: isthmic spondylolisthesis.
"What happens in kids is, there's a stress fracture of the pars, the thinnest part of the vertebral bone, a condition that is called spondylolysis," Dr. Cohen says. "Over time, typically in adolescence, the fractured bone can shift forward. When that happens, it is called spondylolisthesis."
Spondylolisthesis literally means "vertebra" (spondylo) "to slip" (listhesis) in its Greek origins. Isthmic, which refers to the location of the fracture in the pars, is the most common type of spondylolisthesis in adolescents.
"Although Ben traced his onset of pain to a car accident, spondylolisthesis also is a common problem for gymnasts, football players, divers and other athletes who experience fractures from repeated tackles, stress during weightlifting or an overextension of the spine – which later can lead to slippage of the vertebra," Dr. Cohen says.
Surgery
After Ben's diagnosis, Dr. Cohen first tried conservative methods, including bracing and physical therapy.
He said, "We'll try the brace, and we'll try some exercises and physical therapy again," Michelle recalls. But he said, "I have to be honest with you. Lots of kids it works for, but in Ben's case it has gone so long, I don't think it's going to work. But we're going to try it; we're going to try everything we can before we do surgery."And they did. "I think we came back six to eight weeks later, and there was no change at all. It was a hard decision for us to have to make, I mean, really hard, but we made the decision to have surgery."
Just before Christmas 2008, Ben underwent surgery. Michelle delayed surgery for her own back problem, so Ben could get help first.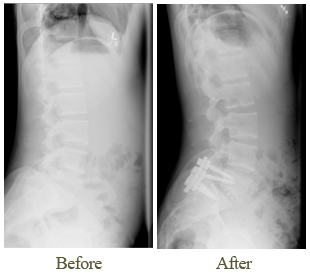 Dr. Cohen performed a five-hour operation to remove the bone pressing on a nerve in Ben's spine and fuse Ben's L5 and S1 vertebrae, using titanium screws and rods. He also inserted a plastic cage between the vertebrae to correct the slippage (spondylolisthesis). The operation took longer than expected due to scar tissue that had formed over the years, encapsulating a nerve and contributing to Ben's pain.
After the surgery, Dr. Cohen told me,"I don't know how he ran cross-country. I don't know how he played baseball. He shouldn't have even been walking," recalls Michelle.
Recovery
Ben recovered quickly from the surgery, helped early on by the new Siberian Husky puppy that his parents had given him as a present. Ben named the dog Max after the doctor who got rid of the pain he lived with for years, pain that felt like
"someone was stabbing me with a knife."
Within two months of his surgery, Ben was doing conditioning with his baseball team and within six months, he had resumed play. In spring 2010, he made the varsity team as a sophomore at Bassett High School. As starting shortstop and second baseman, he helped his high school team become co-champions of Virginia's Piedmont district. Then, in the summer came his trip to the state finals in Junior American Legion baseball – where his team was runner-up.
Asked in summer 2010 how he felt in comparison to the time before surgery, he says, "On a scale of 1 to 10, I'm a 10 now. Then I was a 2."
For Ben, a hard-working athlete, the surgery has kept alive his dream. "I want to play college baseball, and if it goes further than that, great," Ben says.
For his mother, Michelle, the surgery accomplished even more than that.
"Dr. Cohen gave Ben his life back," she says.